Wine Tourism in Portugal
Wine has a 2000-year-old history in Portugal, with Tartessians, Ancient Greeks and Romans all enjoying Portugal's viticulture. The country has many distinct wine regions, with the Douro valley known best for Port, Alentejo for full-bodied reds and the northern region for the infamous Vinho Verde.
In this blog we explore each of these regions in turn and follow with our top recommendations for the best Portugal wine tours. Along with guided tours of vineyards, tourists can also enjoy wine festivals, workshops and wine trails across the beautiful countryside.
Get in touch for personalised advice for your perfect wine holiday in Portugal.
x
Douro Valley Wine Tourism
The Douro valley red wine production has Roman origins, and it was only in the 17th Century that the area became known for Port, when the English added a distilled grape brandy to the wines to facilitate transportation.
Despite the richness of the Douro valley soils, the steep slopes posed challenges for wine growers, and ingenious terraces were constructed which have become a distinctive feature of the region.
Douro valley red wines are known for full-bodied fruity flavours, and are crafted for ageing, which adds oak, leather and tobacco notes. Douro Valley Ports are also rich in flavour and age well, so ask local growers about their vintage ports.
UNESCO designated the Alto Douro Wine Region a World Heritage Site in 2001, recognising both the social and cultural importance of wine growing and the outstanding beauty of the landscape.
Our Douro Valley tour includes some perfect pairings of local cuisine and Douro wines and ports. Visit during the Harvest season in September to participate in grape harvesting, including trampling the grapes barefoot. Enjoy the most famous wine festival in Portugal with help from a passionate local tour company!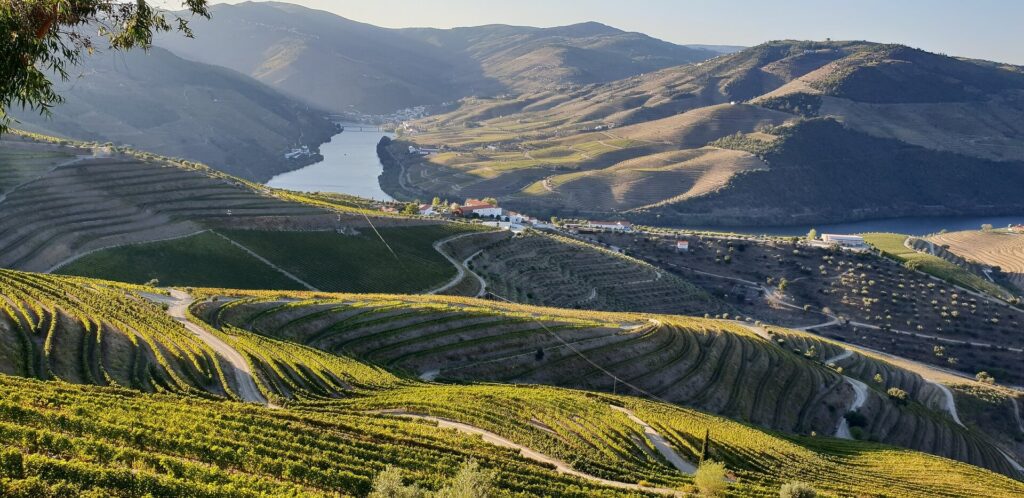 x
Vinho Verde Wine Tourism
The Vinho Verde region is in the northwest part of Portugal, next to the Spanish border. The area offers a lush, green landscape cooled by sea breezes, and Vinho Verde is known to be dry, crisp and sometimes effervescent due to the deeply rooted tradition of allowing carbon dioxide to remain in the wine after fermentation.
There are many sub-regional varieties of Vinho Verde, with Monção e Melgaço and Lima particularly known for premium quality wines. This area is wonderful to explore by bicycle, and there are several good cycle routes through the vineyards.
Traditional Vinho Verde cultivation uses pergolas, so that grapes benefit from increased air circulation, and some farmers keep these techniques alive today. To learn more local secrets of the Vinho Verde traditions, join us on our Vinho Verde Wine Tasting Day — more about this below.
x
Alentejo Wine Tourism
Alentejo is located in the southern part of Portugal, and it offers a wide diversity of wines, from elegant whites to full-bodied reds. This is the oldest wine growing region in Portugal, and the world's earliest wine fermentation took place in clay pots.
In fact, this tradition is now being revived in the Alentejo region, and vinho de talha (clay pot wines) are being fermented in handmade pots over a hundred years old. Olive oil is placed on top to protect the wine from oxygen, and the technique gives the wine a very particular nutty taste.
Alentejo also gave the world a wine-essential: the cork! Portugal is home to one third of global cork production and you can see these ancient gnarly trees across the Alentejo region, with hiking tours across the farms.
Check out our Alentejo travel guide for advice about how to make the best of a visit to this beautiful region. We recommend a trip in Spring or Autumn to avoid the southern Summer heat — and don't miss Portugal's answer to Stonehenge: the neolithic monument of Almendres Cromlech.
x
What are the best Portugal wine tours?
The best wine tours, in our opinion, do not just involve tastings but also give you a sense of the cultural and ecological context of the grapes and the foods they are commonly paired with.
For Vinho Verde, make sure you combine wine tastings with the regional seafood produce of Alto-Minho. Our Vinho Verde Gastronomic Getaway also includes panoramic views from the longest funicular railway in Portugal.
Alternatively, our specialist Vinho Verde wine tour (linked above) takes us through local villages and the 17th Century fortress of Valença. You will learn the details of Vinho Verde production at a "Quinta" of national reference before enjoying a harmonised wine tasting in an intimate environment.
For Douro wines, a trip on the Douro river is a perfect accompaniment to a tasting, where you can get a real sense of immersion in nature. In our Douro Valley Tour (linked above), we make sure that you have a truly seasonal experience, pointing you to the local specialities appropriate to the time of year.
x
"Oiça lá, ó senhor vinho" (Listen here, Mr Wine) is a wonderful Portuguese song that features a conversation between a glass of wine and its drinker. Defending itself against claims that it knocks "even peaceful people" out of balance, the wine responds that when approached with respect, it offers a taste of:
"The leaf, released to play in the wind / a ray of sunlight… that brought a sweet affection to the grape / I still hold the warmth of the sun, and so I give life, increasing the value of anyone…"
At Your Tours Portugal, we believe that a respectful approach to the ecology and culture of wine growing is the perfect way to reflect the recommendations in this song. We truly do believe that life's value is enhanced as you hone your senses to detect the natural landscape and climate reflected in our sensational wines. Get in touch with us for more advice or a chat about the best itinerary for your trip.