If you're looking for a European getaway, Portugal is certainly worth considering. This enchanting country boasts a captivating history, breathtaking coastlines, delectable cuisine and friendly people.
Portugal stands out for its exceptional cultural and natural diversity. The Algarve beckons with sun-drenched beaches and breathtaking cliffs, while the Douro Valley is famous for its steeply terraced vineyards and world-class wines.
Lisbon vibrates with a unique fusion of historic charm and modern culture, and the cities of Porto and Coimbra enchant with their rich history and stunning architecture. Last but not least, Madeira, with its spectacular scenery and unique wine-growing tradition, is an Atlantic gem that offers an unforgettable experience to every visitor.
In this blog post, we'll explore some of Portugal's top destinations that you won't want to miss on your next visit.
And if you'd like to discover our country in the company of an expert local guide to enhance the Portuguese experience, such as getting insider tips and information, tailoring the itinerary to specific interests and providing assistance in the local language, please explore our range of All-inclusive private day tours in Portugal.
Lisbon
If you're looking for things to do in Lisbon, there are plenty of sites worth exploring. For a unique cultural experience, visit the National Azulejo Museum, where you can admire beautiful and intricate tiles from different eras.
Azulejo, the traditional art of Portuguese tiling, dates back to the influence of the Moors in the 13th century, and gained prominence in the 15th century. These hand-painted ceramic tiles, often featuring intricate patterns and storytelling scenes, are unique to Portugal and form an integral part of the country's architectural identity. Azulejos, which adorn churches and palaces as well as ordinary homes, are a visual chronicle of Portuguese history and culture.
The Berardo Museum of Modern and Contemporary Art is a must-see for lovers of contemporary art. With a varied collection of works by renowned artists from all over the world, you're sure to find something that catches your eye.
Lisbon's Alfama district is the birthplace of fado, a hauntingly beautiful musical genre that encapsulates the Portuguese sentiment of "saudade", a deep, melancholy longing. This soulful music resonates through the narrow streets and alleys of Alfama, escaping from the district's taverns and restaurants. The strains of fado add an irresistible layer to the region's ambience, making an evening in this area a deeply moving experience.

Last but not least, Lisbon's culinary scene is a delicious journey of flavors. Bacalhau dishes, prepared in hundreds of ways, are a staple and emblem of Portuguese cuisine. Vinho verde, a young, slightly effervescent wine from the Minho region, goes perfectly with seafood and adds a refreshing touch to traditional wine.
And to round things off on a high note, Ginjinha, a cherry liqueur often enjoyed as a digestive or as a "pick-me-up" in one of the many picturesque kiosks dotted around the city, is a time-honored Lisbon tradition. Don't miss the world-famous pastel de nata (a delicious cream pie).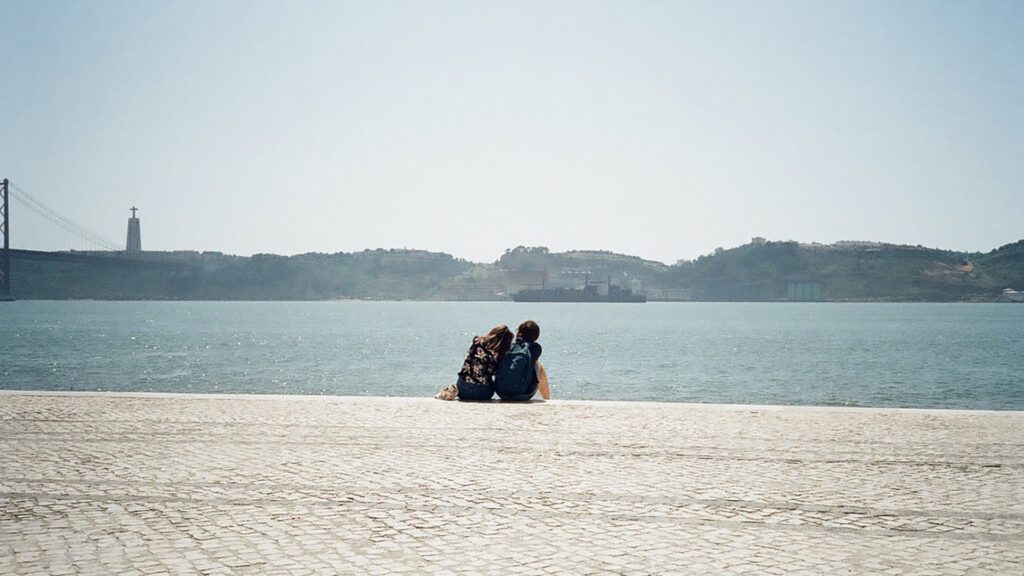 Porto
If you're planning a trip to northern Portugal, be sure to visit Porto. Of course, you can't leave without tasting the famous port wine in the cellars scattered along the hillsides. Renowned Port wine cellars such as Graham's, Burmester, Poças Júnior and Ramos Pinto showcase the depth and diversity of Port wine. Each cellar, steeped in tradition and innovation, offers unique experiences for wine lovers.
(If you have more time to devote to Portugal and want to delve deeper into the country's rich wine culture, you can join us on our Vinho Verde tour).
Stroll along the Douro River, which meanders through the city and offers breathtaking views of the hills and valleys. The Ribeira district is lively and colorful, ideal for a stroll or a meal. And if you're interested in history, the historic center is a must-see, with its beautiful churches and monuments.
Porto's historic center is a UNESCO World Heritage Site, home to monuments such as the Clérigos Tower, which offers a breathtaking view of the city. The Palácio da Bolsa impresses with its ornate Arab hall, while the São Bento station, adorned with superb azulejo tiles, tells the story of Portugal in a tableau vivant.
Porto is also a center of contemporary art and culture. Visit the city's many museums, galleries and festivals. Porto's Serralves Museum is a cultural mecca, with its contemporary art collection, manicured gardens and Art Deco architecture.
Porto's Serralves Museum is a cultural mecca, with its contemporary art collection, manicured gardens and Art Deco architecture. Each plate represents the city's culinary heritage and is filled with rich, generous flavors.
Whether you're a lover of wine, history or art, Porto has something for everyone. We look forward to showing you all that this wonderful city has to offer!
Algarve
Natural wonders abound in the Algarve. Imposing cliffs and unique rock formations define the golden sandy beach of Praia da Rocha. Boat excursions to the enchanting Benagil sea cave offer an unforgettable experience.
If you love history and charming old towns, visit Lagos. The old town is magnificent and the ramparts are quite impressive. Don't miss the town's landmarks, such as Ponta da Piedade, a stunning collection of sea caves and sandstone cliffs, and Saint-Antoine church, famous for its gilded woodwork.
And if you're a nature lover, you'll be pleased to know that the Algarve boasts several nature parks. The Ria Formosa Natural Park is one of them, and is famous for its diverse ecosystem of birds, fish and other wildlife. You can spot a variety of bird species at different times of the year, including pink flamingos and the rare purple swan. The Ria Formosa is a must-see for nature lovers.
If you're travelling with children, why not visit the Algarve's theme parks? Perfect for a family day out. Or, if you're feeling adventurous, why not try your hand at a few water sports? Surfing, paddle boarding and jet skiing are just some of the options available in the Algarve.

Finally, the Algarve is also a golfer's paradise, with world-class golf courses attracting enthusiasts all year round.
Coimbra
If you're looking for a cultural and historical destination in Portugal, Coimbra should be high on your list. This charming city is home to the University of Coimbra, one of Europe's oldest universities (founded in 1290!) and a UNESCO World Heritage Site. The university, perched on a hilltop, offers panoramic views over the city.
You can stroll around the campus and explore the university's magnificent buildings, including the stunning Biblioteca Joanina, considered one of the most beautiful libraries in the world. The Biblioteca Joanina is also famous for its unique colony of bats, which protect the books from insects! This library offers an overview of Portugal's university heritage.
Coimbra also boasts an amazing gastronomic scene, with numerous cafés and restaurants serving traditional Portuguese dishes such as chanfana, a hearty goat stew, grilled sardines and cozido, a hearty meat and vegetable stew.
The streets are lively and the city center is full of charm, making Coimbra an ideal place to explore on foot and soak up its unique atmosphere. Enjoy a glass of local Bairrada wine and listen to and try to catch local musicians singing fado – a real taste of authentic Portuguese life!
Madeira
If you're looking for a destination that combines natural beauty and world-class wine, look no further than Madeira. This stunning island, located off the coast of Portugal, offers a multitude of breathtaking landscapes and is renowned for its mild climate and unique culture.
Madeira's unique Levada irrigation canals, originally built to transport water across the island, now serve as picturesque hiking trails through lush vegetation and breathtaking mountain scenery. Among the most popular routes are the Levada do Caldeirão Verde, through lush vegetation and waterfalls, and the Levada dos 25 Fontes, which leads hikers to a lagoon with 25 bubbling springs.
But what really sets Madeira apart is its incredible wine. The island is famous for its fortified wine, made using a unique process that involves heating the wine and aging it in barrels for years. The result is a rich, complex wine with a distinctive taste, appreciated by connoisseurs the world over.
Some of the best varieties of Madeira wine: Sercial (typically dry and tart); Verdelho (moderately sweet); Bual (richer and sweeter), and Malmsey (renowned for its sweet, rich, honeyed flavors).
To fully appreciate Madeira's wine and natural beauty, visit the Monte Palace's tropical gardens. This remarkable botanical garden features exotic plants and animals from all over the world.
And if you want to discover the island's rich culture, be sure to attend one of its many festivals? Festivals are an integral part of Madeira's culture. The Festa da Flor is characterized by magnificent flower carpets, elaborate costumes and the Wall of Hope ceremony. Other events include the Guinness-record-setting New Year's fireworks display and the Madeira Wine Festival, celebrating the island's winemaking tradition.
And if wine is your passion, why not join us on our Douro Valley tour?
Discover the best of Portugal with your tours.
Immersed in a rich tapestry of history, culture and natural splendor, Portugal seduces travelers from all over the world. As you stroll through the picturesque streets of Lisbon or marvel at the spectacular seascapes of the Algarve, you'll discover the appeal of this enchanting land.
From the scholarly heritage of Coimbra to the bewitching charm of the islands of Madeira, Portugal promises an experience to suit every traveler's dreams.
If you have any questions, please do not hesitate to contact us.