You'll find treasures throughout Portugal from north to south, east to west. Whether you love hitting the beach for lazy hours spent in the sun, luxury wine-tasting experiences, challenging nature hikes, or exploring historic sites, Portugal has plenty to offer.
Of course, visitors can enjoy city breaks in Portugal's vibrant cities or short holidays in seaside resorts, but a trip over ten days will allow you to explore the country and get a taste of local life.
Join Your Tours Portugal as we share some of the must-visit Portuguese destinations we recommend to someone in the country for ten days.
And if you're ready to book your trip, why not consider our Self-Guided Portugal Tours – unforgettable itineraries designed by our travel experts that also give you the flexibility to explore on your own?
If you have any questions, please get in touch.
Lisbon
There can be little debate: Lisbon is one of Europe's most picture-perfect capital cities. Charming lanes and alleys, brightly painted houses, historic churches, and the city's notoriously hilly nature give Lisbon a fairytale quality.
The beauty of the town makes this an ideal destination for those who like to explore, happening upon interesting things as they find them. But there's also an array of cultural sights you won't want to miss.
Head to the Castelo de São Jorge to wander around an 8th-century castle that looks straight out of Game of Thrones. Or head to the Fado Museum to explore a uniquely Portuguese form of songwriting and performance.
Finally, there's the food! Be sure to try Lisbon's famous Pasteis de Belem, prepared using the same recipe for centuries, or bacalhau, a salted fish beloved by locals.
The Algarve
A delight for surfers and anyone who enjoys spending time on pristine, sandy beaches, the Algarve is one of Portugal's most magnificent coastal regions. Portugal enjoys some of the best and most consistent weather in all of Europe, so the Algarve makes for an excellent summer destination.
Those who like to stay active while on holiday can enjoy water sports or take hikes in the Algarve's wonderful natural landscapes–you're guaranteed lots of sunshine and no rain!
You'll find authentic old-world charm in the Algarve towns. The region's cuisine is top-class, with many delicious dishes made with locally-sourced ingredients.
We recommend visiting the Algarve's capital city of Faro. This historic city makes a perfect basecamp from which to explore the region.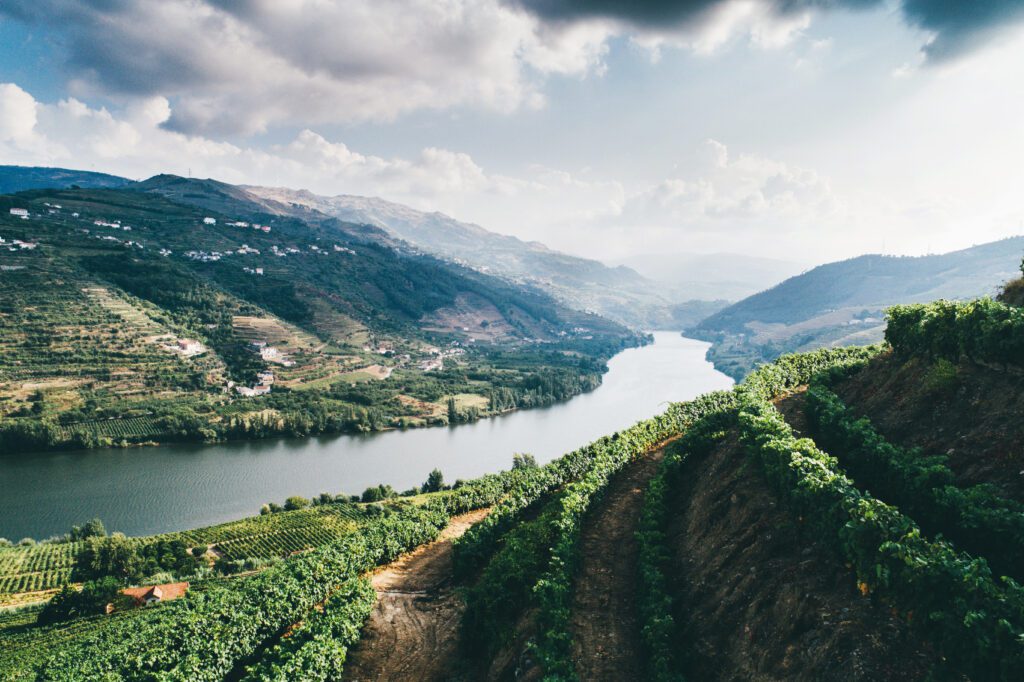 The Douro Valley
Just outside of Porto is the Douro Valley, one of Portugal's most beautiful natural areas.
The Douro is Europe's oldest recognised wine region, and as you journey through the valley along the Douro River, you'll catch sight of the breathtaking vineyards that climb the hillsides.
If you're spending time in Porto, the Douro Valley can be visited on a day trip, but longer stays are rewarding (especially if you're partial to a glass of wine!). This is a destination for those who love the finer things in life: great food and wine in a magical setting, spa treatments, and river cruises.
If you're travelling to Portugal as a couple, why not consider our 3-Day Romantic Getaway in the Douro Valley?
Braga
Braga is a bustling town with a youthful spirit. A marvellous choice for those who want to have a drink or dine out, soaking up the local atmosphere.
To dive deeply into Portuguese history, visit the Cathedral of Braga, built before Portugal was even a country. The Gothic facade you see dates today to the 15th century, though the earliest form of the cathedral is rooted in the 11th century.
If you join our Private Tour of Braga & Guimarães, you'll learn Braga's fascinating story and visit the stunning sanctuary of Bom Jesus do Monte.
The same tour also explores Guimarães' historic centre, a UNESCO World Heritage Site.
Porto
Portugal's second city is another city that ranks among the most visually rich in Europe. Climbing the hillsides beside the Douro River, Porto has a wonderfully cinematic quality and the city's Old Town is a UNESCO World Heritage Site.
Home to Portugal's internationally famous port wine, Porto offers countless culinary delights (we recommend you order a francesinha at the first opportunity).
To enjoy an aspect of design that is quintessentially Portuguese, travel to the São Bento railway station and appreciate the beautiful azulejo tiles.
Your Tours Portugal's Private Tour of Porto features an exploration of the city's Old Town, a port wine tasting in a traditional cave bar, and a delicious meal on the banks of the Douro River.
Coimbra
Coimbra was once the capital of Portugal, and it has retained an atmosphere of stately grandeur. With a university founded in the 13th century, Coimbra has been a place of great cultural significance for a very long time.
Although even before its medieval heyday, Coimbra had been a major settlement for the Romans, as seen in the city's surviving Roman aqueduct.
Venture to Coimbra with a Your Tours Portugal Private Day Tour, and you'll also get to see the enchanting town of Aveiro, the Venice of Portugal. We'll visit the University of Coimbra (a UNESCO World Heritage Site) and share the story of the city's fascinating Old Town – a tour not to be missed!
Have we got you reaching for your passport? Begin planning your dream trip to Portugal today! If you have any questions, please get in touch.