Alentejo
Category: Adventure, Weekend Getaway, Nature, Self-Guided Any Type of Travel, Relaxation
If you appreciate the serenity of nature and discovering a better place in the unknown, keep reading this article, we promise you will want to start preparing your visit right now! In this article you will find information and tips for an incredible experience along the beautiful Rota Vicentina.
1. What is Rota Vicentina?
Rota Vicentina is a set of 750 km that can be completed on foot, although they are also suitable for mountain biking. This route has a European certification for the trails and these extend from the coastal Alentejo to the Algarve. This Route is divided into two paths, which we present below.
2. The Historical Path
The first path presented is the Historical Path, a route of about 263 km that is mainly made up of rural areas. The Historic Path runs through towns and villages dating back several centuries, enriched with history, as well as the relief full of rivers, streams and a mountain range that transform the view into a mixture of nature and culture.
Some information about the Path that may be useful to you:
263 km made up of the lesser known sides of the region.
It consists of 13 one-day stages, with a maximum of 25 km, with the exception of the route between Sabóia and Odemira, which contains 33 km.
The degree of difficulty is easy.
The route is certified by the European Ramblers Association and has received the Leading Quality Tours award.
Accommodation and a range of other services are available along the way.
3. The Fisherman's Trail
The Fishermen's Trail consists of a maritime trail that shows the paths used by the local population to access the beaches and fishing grounds. This entire trail can only be traversed on foot, overcoming beaches and cliffs, and is recommended for those who want to carry out an activity with greater physical demand. This trail requires more effort, as it all runs between cliffs and can also be somewhat challenging, due to the permanent contact with the sea wind.
We leave you some notes about the route that may help you:
The route comprises a total of 13 stages, totaling 226.5 km.
Each stage can be completed in one day, for a maximum of 22.5 km.
The route can only be done on foot.
The degree of difficulty is something difficult.
Not recommended for people with vertigo.
You must strictly follow the trail markings, as the ecosystem is fragile.
Maximum capacity limited to 20 people per group.
60% to 70% of the trails are sandy.
Accommodation and services are present along the route.
4. Programs and Activities
Throughout all the regions through which Rota Vicentina passes, there are several unmissable programs and activities, which are focused on representing the region and leaving unforgettable memories in the minds and hearts of those who pass there. Both the activities and the respective programs focus on coexistence with the local culture and also with nature and the dominant relief in the region.
Among the activities you can find are:
Horse riding at Herdade do Pessegueiro.
Crafts in Arts and Crafts of Odemira.
Brejão Wine Tasting, in Odemira.
Boat trips in Lagos.
Kayak hire all along the coast.
Surf, in Odeceixe.
Canoeing on the Mira River.
Treatments and massages in Vila Nova de Milfontes.
Cycling.
Wool Route.
5. Accommodation and Transportation
Accommodation and transport is without a doubt the least thing to worry about! Rota Vicentina itself suggests several proposals for accommodation to have a place to stay during your visit and all of them are affordable for your budget. As for transport, there is a vast network of taxis and transfer services with great flexibility, so you can leave your car at home and have a more relaxed visit.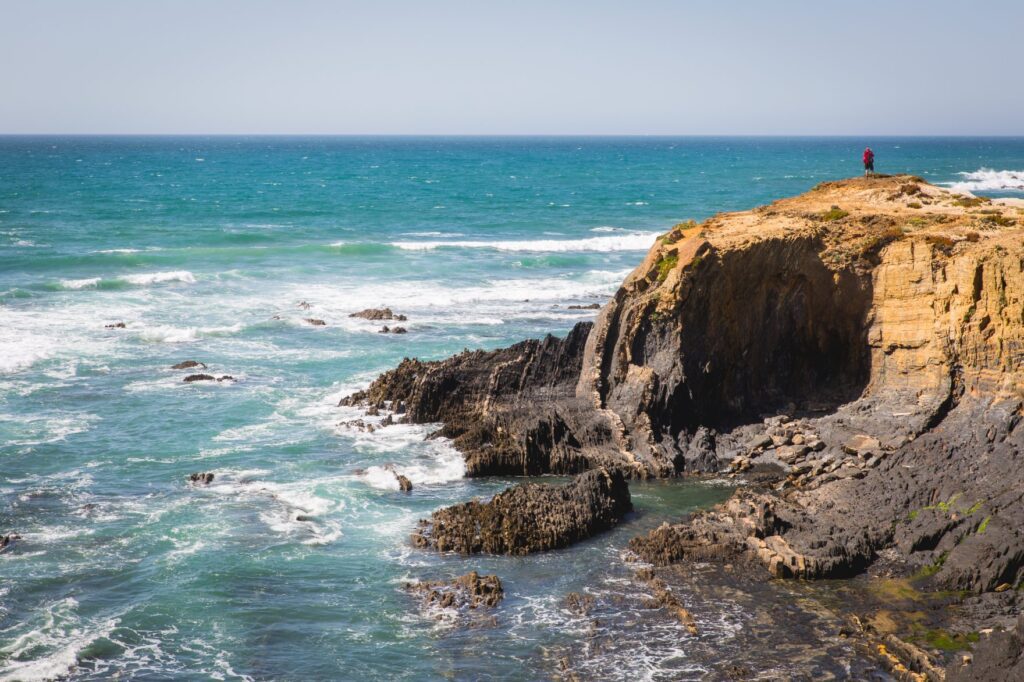 What do you think? Did we cover enough of the places to visit in Rota Vicentina that you feel ready to take a trip right now? We hope so! There is so much more to enjoy here in our home country, so we invite you to get in touch to plan your own perfect itinerary.
We'd love to help you see the very best of Portugal!