A UNESCO World Heritage Site famous for its extraordinary natural beauty and ancient wine culture, the Douro Valley is one of Portugal's most stunning regions.
Planning a vacation in this matchless destination? Good choice! Join us for our guide to the Douro Valley. We'll cover the best times to go, unmissable sights and experiences, what to pack, and much more.
Begin planning your Douro Valley itinerary today – a wondrous land of wine and breathtaking vistas awaits…
And while you're here, check out our range of All-Inclusive Private Day Tours in Portugal and Premium Self-Guided Portugal Tours.
When is the Best Time to Visit Portugal's Douro Valley?
Portugal, in general, is an excellent year-round destination, offering something unique each month.

Our favourite months to travel in the Douro region are between April and June. April and May offer sunny and warm spring conditions without the sometimes uncomfortably high upper temperature of the summer months.
June marks the beginning of summer, but temperatures are not yet at their peak. During these three months, you will encounter other tourists, but not in overwhelming numbers; just book early if opting for April travel – this month is popular with Spanish tourists on their Easter holidays.
July and August are the warmest months, with temperatures easily reaching as high as 38ºC (100ºF) – not ideal for an activity-packed vacation.
Due to the harvest season, September and October are the busiest time of year in the Douro Valley. As such, accommodation prices are at their highest, and you will encounter many people. On the plus side, there's a wonderful atmosphere.
Finally, the winter season. From November through to February, you'll find the region much quieter, and prices are at their lowest. Colder temperatures and rain will spoil popular activities, such as taking a boat tour or hiking. However, travel in December can be romantic and delightfully festive, with the hotels being adorned with lights and Christmas decorations.
What should you pack for your trip to the Douro Valley?
Let's run through an ideal packing list for visiting the Douro Valley…
Suncream, sunglasses and a sun hat for the summer months; a raincoat and warm layers of clothing for winter.
Comfortable shoes: You'll most likely undertake scenic hikes, so you'll want to take care of your feet.
Sandals: In the warmer months, you'll want to be able to slip on and off a pair of sandals when relaxing. Conversely, if you're travelling during the cold and wet months, ensure you've got footwear that will keep you dry and cosy!
Smart clothing: In Porto, the locals dress in a smart-casual style, so perhaps pack a favourite dress or shirt, trousers and dress shoes for dining out.
Quality camera: whether you use a digital camera or a high-resolution camera on your phone, you want to be able to take lots of photos. The scenery of the Douro region is breathtaking and unlike anywhere else.
Some cash: most businesses in Portugal will accept card payments, but when travelling in rural areas, it's best to keep enough cash for food, drinks, and gifts.
How to Get Around the Douro Valley
The Douro Valley can be enjoyed by car, train, boat, and even helicopter! Whatever is your favourite mode of transport, there will be options for you.
Rail travel certainly offers beautiful views. The railways in the Douro take you along the river, offering fantastic views of the valley's famous hillside vineyards. You can take a steam locomotive from Régua to Tua between June and October. An unforgettable way to see this UNESCO World Heritage Site, you'll feel you've travelled back in time.
Hiring a car undoubtedly offers the most freedom. By driving in the Douro, you'll be able to visit small, wine-producing villages and out-of-the-way estates and will be free to make stops at countless viewpoints (miradouros). Particularly stunning viewpoints are Miradouro de Assumadouro, Casal de Loivos, and Miradouro de São Leonardo da Galafura.
Be sure to drive the Estrada Nacional 222 (National Highway 222), one of Europe's most picturesque roads.
Is the Douro Valley Portugal Expensive?
With Portugal being one of the cheapest countries in Europe for travellers, you will find your money goes a long way, even in a touristic region like the Douro.
Of course, the cost of your trip will all depend on the kind of itinerary you have planned. If travelling during the high season, determined to drink only the finest wines and stay in the most exclusive hotels, you can expect to pay high prices.
Portugal, though, always offers experiences for those on a budget. Keep costs down by travelling away from the high season and book your accommodation well in advance.
Average travel costs are between 70 and 120 Euros per person. Remember, the number one attraction of the Douro is the place's natural beauty, so you'll still have a rewarding trip even if travelling on a tight budget.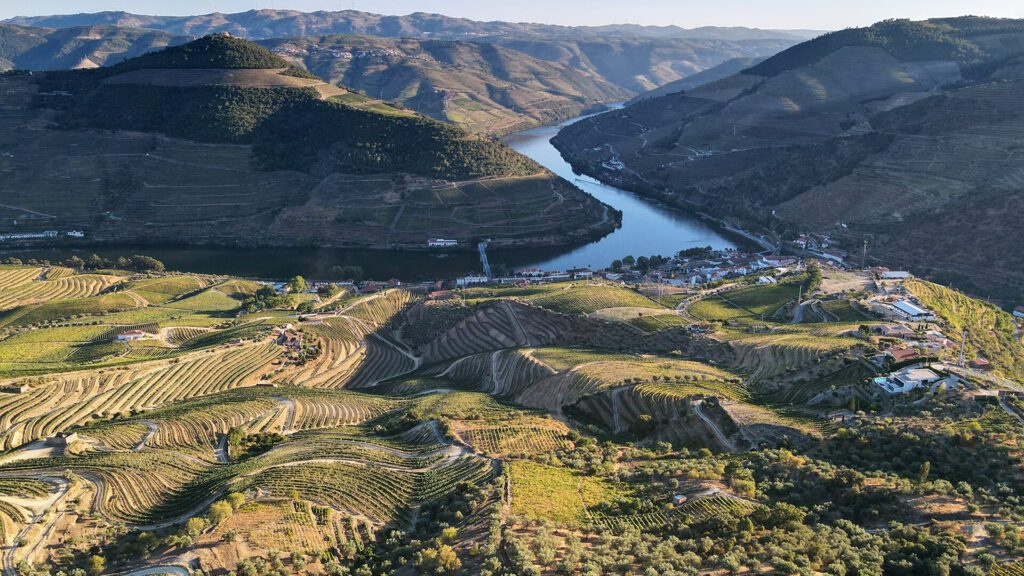 Things to See and Do in the Douro Valley
Here's a list of some of our highlights for Northern Portugal!
Take in the Matchless Views: The Douro Valley possesses some of the most striking scenery in Europe. Head to the Miradouro de São Salvador do Mundo, Miradouro de São Domingos, or Miradouro de Casal de Loivos to experience the region's beauty in all its glory.
Parque Arqueológico do Vale do Côa: The Prehistoric Rock-Art Site of the Côa Valley is an open-air Paleolithic archaeological site near the Portugal-Spain border. This is an extraordinary pre-historical site with rock drawings dating from 22,000 to 10,000 B.C.
Take a Boat Tour on the Douro River: You'll find plenty of river cruise options when in the Douro, and it's an experience not to be missed. Appreciate the majesty of the valley from the water.
Peso da Régua: Commonly known as Régua, is the main river port in the Douro Valley. Inhabited since Roman times, the town is home to the Douro Museum and many excellent restaurants.
Pay a Visit to Porto: Located less than two hours from Régua, Porto is Portugal's second city and one of the most enchanting cities in Europe – make sure you incorporate Porto into your Douro Valley vacation.
Birding in the Douro: If you're a wildlife enthusiast, you won't miss birding in this marvellous region, home to over 170 bird species.
Drinking Wine in the Douro Valley
The boundaries for the vineyards of the Douro Valley were established in 1756, making this the oldest demarcated wine region in the world. Though, the viniculture of the Douro scratches back to Roman times, more than 2,000 years ago.
Fortified port wine is the region's world-famous export, and you'll find no shortage of wine-related experiences awaiting you here. Visit the Sandeman Quinta do Seixo Winery and Vineyards to discover the winemaking processes of this iconic brand and to sample many delicious varieties of port wine.
Take the Train from Porto to the Douro Valley
Only considering a day trip to the Douro Valley? The region is conveniently connected to Porto by train. If you're staying in Portugal's second city for a few days, we recommend paying a visit to the Douro Valley to capture some magnificent pictures and enjoy a boat tour on the Douro River.

If, on the other hand, you are based in the Douro Valley for an extended stay, we recommend heading to Porto. It's one of Europe's most picturesque and historic cities. Read our dedicated Guide to Porto to learn more.
Birdwatching in the Douro Valley
Home to over 170 species of birds, including black storks, Egyptian vultures, and golden eagles, this is the perfect destination for bird enthusiasts or wildlife lovers in general.
Pack your binoculars and some delicious, locally-produced food before heading out in the majestic hills of the Douro to spot an array of fascinating birds.
Sample the Cuisine of the Douro Valley
It probably doesn't need to be said, but Portugal is home to some truly delicious food. And the Douro Valley is the perfect destination to try plenty of exquisite food.
Yes, world-class wine is not the only taste sensation you want to include on your Douro itinerary. Look out for dishes like Bacalhau à bras, Alheira sausage, Polvo (octopus), Feijoada de cogumelos, and Terrincho cheese to experience some classically Portuguese flavours.
We hope this guide has inspired you to begin planning a visit to the Douro Valley.

If you would like to learn more about the tours we offer, take a look at our Custom and Private Tours of Portugal, and if you have any questions, please get in touch.